Contacts
Aparte Lux
GUEST HOUSE & RESTAURANT
Jaunā street 9a
Jūrmala, LV-2015, Latvia
Phone.: +371 29 272 218
e-mail: v.tracuka@gmail.com
www.apartelux.lv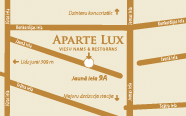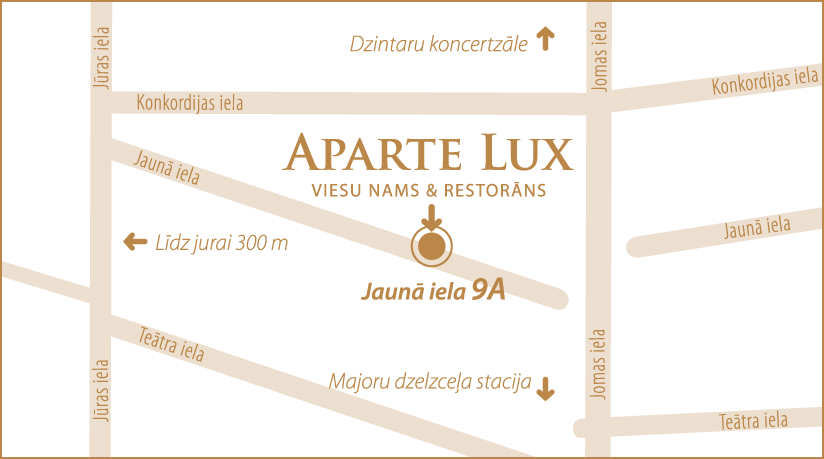 Aparte Lux is a small club type apartments in the centre of Jurmala next to Jomas street. The place is very quiet so that you can relax without hearing any noises or being disturbed but at the same time everything is only 10 meters away on the Jomas street which is the main street in Jurmala. And the sea, beach with golden sand and much praised medicinal pine-tree forest air is accessible only in a distance of 200 metres.
If you wish to visit Latvias capital city Riga then you will have to travel only 25 km or 20 minutes and the airport is only 15 km away.
The guest house itself is an historical building which was built at the beginning of the XX century and is located in national importance town planning territory. The house was fully renewed accordingly to all the architectonic demands and given to the exploitation only in the year of 2010.
The guest house is located in a private territory and it is enveloped by a garden with specially elected exotic plants and flowers as sakura.
There are six facilitated apartments for the guests:
1) We offer four two room apartments with united guest room, kitchen and bedroom as well as separated bathrooms.
2) One Lux with three rooms and two bedrooms
3) One studio apartment
In every apartment there is a bath or shower.
The kitchen is fully equipped with all necessary kitchen technology, all the kitchen utensils and appropriate plates and dishes. Also there is a microwave oven.
You can expect excellent opportunity to rest if you will arrive with family or friends or if you will want to spend an unforgettable holidays with your closest friends.
We offer specially profitable conditions if you want to stay for extended time of period.